Guided Meditation @ Buddina 4pm
Buddina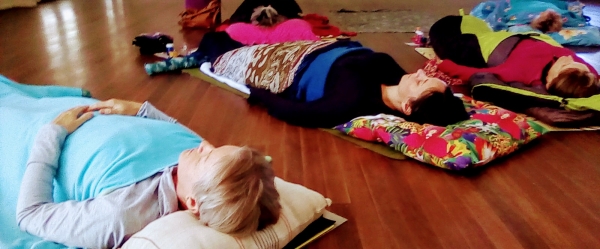 Every Saturday at 4pm from 25th May (No sessions on Sat June 1st and Sat June 8th). Enjoy a relaxing guided Yoga Nidra Meditation while resting on your mat with a pillow and blanket. Resting in stillness. Enjoy homemade GF morning tea afterwards.

Yoga Nidra is an accessible practice available in some form to almost everyone. The practice takes place ling down. It requires no special skills, other than to follow the instructions which consist of a systematic process for complete relaxation of body and mind by taking the awareness to different aspects of experiences such as breath, sense awareness, parts of the body and different layers of mental awareness. Gradually all tension in the body and mind is released in a careful and deliberate way that creates profound relaxation.

The intention (sankalpa) or affirmation, which is part of yoga nidra, allows us to shape our own future (steer your life in the direction you want to go rather than where habits tend to take us). The practice creates a profound release from the mind's entanglement in the sensory world. The effect creates energy and a freshness in body and mind.

Anna is a Certified Yoga Nidra Facilitator (Amrit Yoga Institute) and Member of Yoga Australia. She is also a registered teacher and offers a gentle, relaxing, 45 minute guided meditation. Use your breath, body and awareness techniques to help you move into progressive states of relaxation. Bring a pillow and blanket and yoga mat if you have one as yoga mats are available at the Hall.

Bookings via ph or text 0431 873 042, email yogartnidra@gmail.com or find us on Facebook YogArt Nidra Sunshine Coast and Yoga Nidra Sunshine Coast Australia.
$15 at the door includes afternoon tea.
When:
Saturday at 4.00pm every week (next 25-May-2019)
Where:
GIRL GUIDES HALL
Iluka Ave cnr Talinga ST
Buddina
Group:
Range Lively 50 Plus
Contact:
Anna YogArt Nidra Sunshine Coast m: 0431873042
e: YogArtNidra@gmail.com

Book:
Contact the host to confirm booking.
Views:
593 people have viewed this event
Keywords:
Guided Meditation @ Buddina 4pm, GIRL GUIDES HALL, Buddina, What To Do In Buddina, Range Lively 50 Plus