Relax | Rest | Restore
Buddina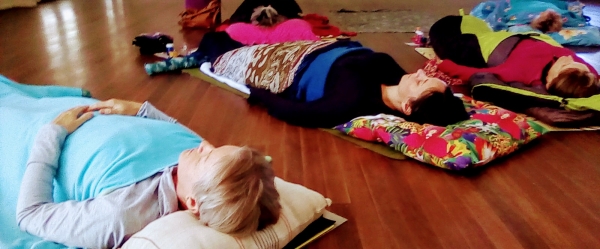 Every Saturday at the Girl Guides Hall at 8am enjoy a relaxing guided Yoga Nidra Meditation while resting on your mat with a pillow and blanket. Resting in stillness. Enjoy homemade GF morning tea afterwards.

Anna is a Certified Yoga Nidra Facilitator (Amrit Yoga Institute) and Member of Yoga Australia. She is also a registered teacher and offers a gentle, relaxing, 45 minute guided meditation. Use your breath, body and awareness techniques to help you move into progressive states of relaxation. Bring a pillow and blanket and yoga mat if you have one as yoga mats are available at the Hall.

Bookings via ph or text 0431 873 042, email yogartnidra@gmail.com or find us on Facebook YogArt Nidra Sunshine Coast and Yoga Nidra Sunshine Coast Australia.

$10 on a Saturday.
When:
Saturday at 8.00am every week (next 17-Nov-2018)
Where:
GIRL GUIDES HALL
Iluka Ave cnr Talinga ST
Buddina
Contact:
YogArt Nidra e: YogArtNidra@gmail.com

Book:
Contact the host to confirm booking.
Views:
371 people have viewed this event
Keywords:
Relax | Rest | Restore, GIRL GUIDES HALL, Buddina, What To Do In Buddina